Nike Seoul
WD+C South Korea space created in partnership with Nike. We designed an environment that focused on the idea of Seoul's unlimited potential, leaning into a visual language centered around disruption, momentum, and reinvention.
The goal was to create an environment that connected its inhabitants to the city of Seoul through a Nike lens, telling familiar stories in unfamiliar formats - fostering engagement through unexpected moments of innovation and inspiration.
Studio: Big-Giant
Role: Designer
Creative Direction: Jason Bacon
Senior: Joe Trussel
3D: Parker Oubre

Graphic
Nike Beijing
The WD+C China environment is designed around the idea of focused momentum. The Beijing space draws from Nike heritage, Chinese street culture, and of course basketball.

The goal was to create a space that expresses the energy of its users: confident, resiliant, and innovative. Leveraging a blend of heritage and contemporary visual elements to create unique moments of everyday discovery and engagement - honoring the past while constantly looking to the future.
Studio: Big-Giant
Role: Designer
Creative Direction: Jason Bacon
Senior: Joe Trussel
3D: Parker Oubre

Graphic
Nike Miscellaneous
Various graphic work for global Nike locations including posters, custom basketball courts, apparel illustration, tile mosaics, wallpapers, and more.
Graphic
Corners Cafe
Right on one of Beaverton's most infamous intersections, Six Corners Cafe has provided classic diner breakfasts and lunches, alongside friendly faces and great prices for the last several decades.A self-initiated project to update the Six Corners branding has been in my back pocket for awhile and I finally got around to it.
A custom wordmark plays off the multi-angled geometry of the intersection itself, while a corresponding type systemand color palette each reference 1950's diner culture with modern sensibilities.
Leaning into the focus of friends and food, tertiary illustrative elements personify classic diner staples, creating more human-centric & lighthearted brand engagementwithout feeling immature.
Identity, Illustration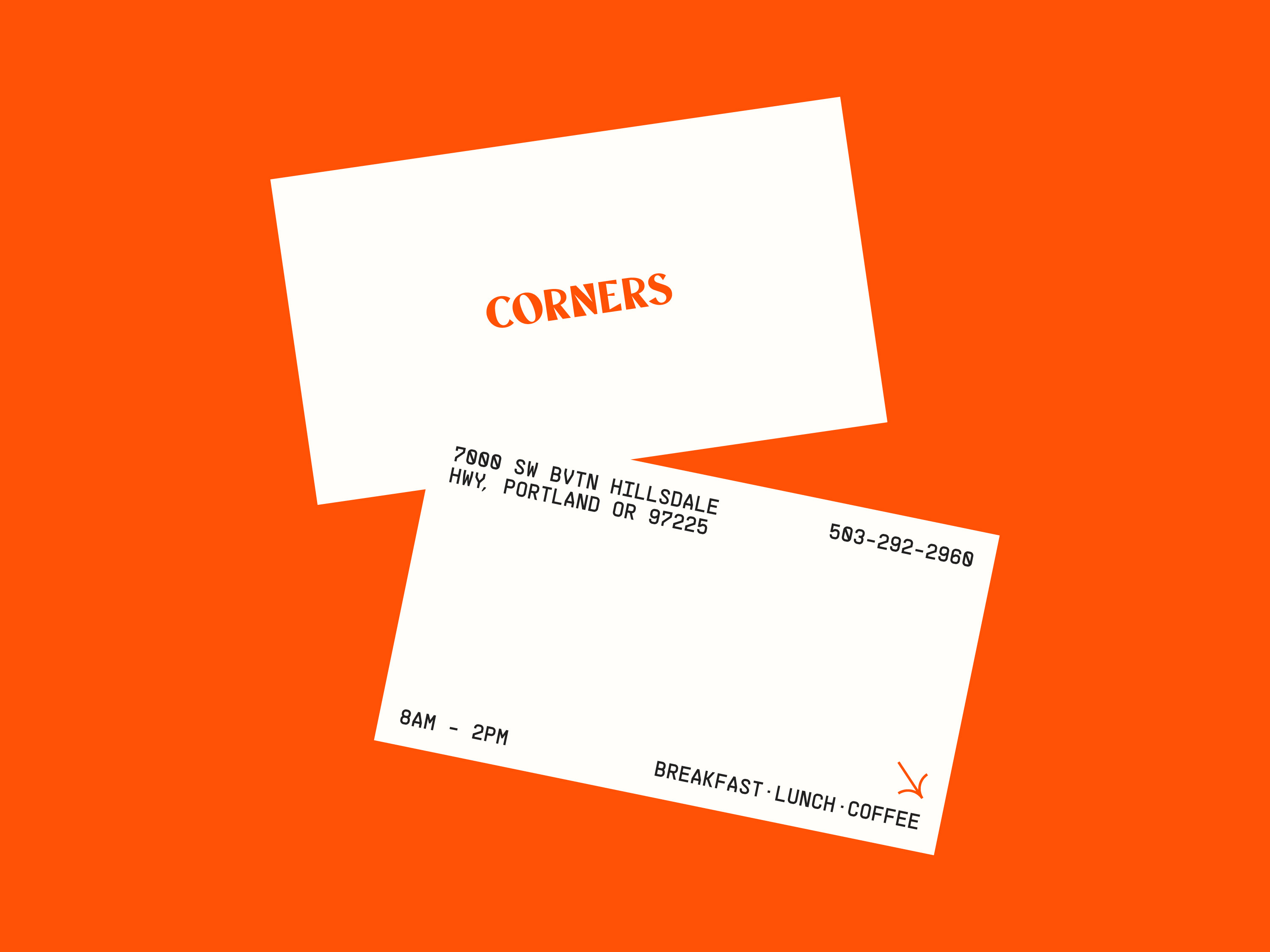 329 Display
I met 3 of my best friends in college, and it all started in a freshman dorm room with a 20 year old video game. Ten years later and video games are still one of the main platforms for staying connected with my college friend group across state lines.
What started as a small project to help a buddy with some Twitch channel point reward icons turned into something a bit more. In an effort to learn something new I took a shot at some type design.
Speaking to the way Twitch functions at the crossroads between media and people, 329 Display leverages a traditional gaming aesthetic with pixelated letterforms and glyphs but brings in a more organic feel through subtle curvatures and organic points of connection at pixel corners.
If you're wanting to watch my personal favorite Kirby player on SSBU check out Dylan's stream on Twitch!
https://www.twitch.tv/dribblindibblin
Type Design